1/2 cup Ensure vanilla powder
2 x 400g tinned chickpeas, rinsed and drained
2 garlic cloves
1/3 cup extra virgin olive oil (extra to serve)
Juice from 2 lemons
1 tsp. cumin, ground
2 tbsp. tahini
1 tbsp water
Salt and pepper to taste
Chopped parsley to serve
Add all the ingredients to a food processor and blitz until smooth and well combined.
Garnish with chopped parsley and drizzle extra virgin olive oil on top.
Serve with crackers, flatbread or oven-baked tortilla chips.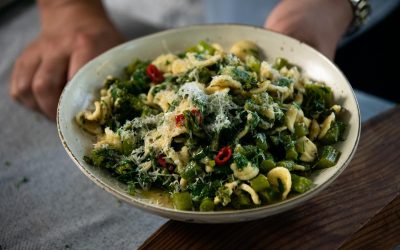 This recipe is brought to you with the help of our friends at Perfection Fresh  Ingredients: 500g orecchiette pasta Table salt for pasta water 2 heads broccolini, cut into small pieces, use stalk as well 4 birds eye chilli, sliced finely 5 cloves garlic, chopped 4...