Indonesian Peanut Sauce
Elena Duggan
Sauce
50g Peanut Oil
1 lge Asian shallot, finely chopped
2 cloves Garlic, finely chopped
250g Unsalted peanuts, ground
25g Shrimp paste
25g Jeeny's Palm sugar
25g Tamarind paste
25g ABC Kecap manis
2.5g Chili powder/ or 10g Indonesian sambal oelek
150g Water
150g TCC Coconut milk
Chicken
50g ABC Kecap manis
25g Peanut oil
5g Turmeric powder
500g Chicken thigh fillets
Skewers – soaked in water for at least 1hour ahead of cooking time
To Serve:
Crushed peanuts
Lime wedges
Spring onions, finely sliced on an angle
Optional- red onion and cucumber wedges
Sauce:
Heat oil, fry shallot and garlic until soft and fragrant.
Add peanuts and sugar until starting to colour.
Stir in remaining ingredients and cook gently for up to 20minutes.
Remove from heat, food process when sufficiently cool enough, and serve.
Keep in an airtight container in the fridge.
Chicken:
Cut the chicken into 1.5cm cubes before threading onto soaked skewers about 15cm consistency in length.
Combine the peanut oil and kecap manis and brush thoroughly over the chicken skewers.
Cook the chicken skewers over a high heat on a griddle pan or outdoor barbecue, turning regularly until evenly cooked and well caramelised, some char is good.
Serve on a platter with peanuts, spring onions, lime and optional toppings with a generous portion of the peanut sauce.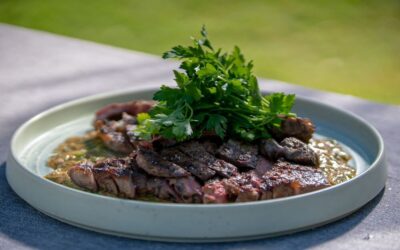 Ingredients: Serves: 2-4 2 x 250g T-bone or Rump steak Sea salt 2 Tbsp Olive oil 2 Tbsp Butter 1 brown onion, diced 2-3 cloves garlic, finely chopped 1 tsp dried chilli flakes 2 tsp dried mixed herbs 40 'twists' cracked black pepper 2 chicken stock cubes, crumbled 2-3...