Japanese Pancake (Okonomiyaki)
Chef Mark
This recipe is brought to you by our friends at Asian Inspirations
Serves 2
240g cabbage (finely chopped)
80g spring onion (finely chopped)
160g squid tube (finely chopped)
3 tbsp vegetable oil
Batter:
120g plain flour
1 tsp baking powder
4 eggs
2 tsp S&B Wasabi Paste
200ml water
Garnish (optional):
Aonori
Bonito flake
Pickled red ginger
Sauce:
2 tsp S&B Wasabi Paste
50g Kewpie mayonnaise
To Prep:
1. Combine and mix all the batter ingredients in a large mixing bowl. Then, add chopped cabbages,

spring onions and squids into the batter mix. Mix well.
To Cook:
1. Heat 1⁄2 tbsp oil over medium heat in a pan. Add 120ml of batter mix, cook for approximately 5 mins or until the bottom is golden brown. Flip over and thoroughly cook the other side until golden

brown.

2. Put the pancake onto an oven tray, set aside and keep warm. Continue the same steps to cook the remaining 5 pancakes.

3. Put all 6 pancakes in the oven at 100°C for 5 mins. Remove from heat and serve hot. Garnish

with aonori, bonito flakes and pickled red ginger.

4. Mix S&B Wasabi Paste and mayonnaise, then serve on the side.
Our friends at Wine Selectors suggest pairing this dish with Marsanne Rousanne Viognier Blends.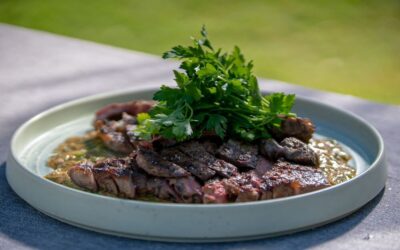 Ingredients: Serves: 2-4 2 x 250g T-bone or Rump steak Sea salt 2 Tbsp Olive oil 2 Tbsp Butter 1 brown onion, diced 2-3 cloves garlic, finely chopped 1 tsp dried chilli flakes 2 tsp dried mixed herbs 40 'twists' cracked black pepper 2 chicken stock cubes, crumbled 2-3...