Lamb Vermicelli Salad
Khanh Ong
120g cooked vermicelli
50g bean sprouts
1⁄2 a lebanese cucumber julienned
1 small carrot julienned
1⁄4 cup of packed coriander leaves
1⁄4 cup of packed vietnamese mint leaves
1⁄4 cup of packed mint leaves
200g leftover lamb roast
1⁄2 tsp sesame oil
To Serve:
1 tbsp crushed roasted peanuts
1 tsp fried shallots
1⁄4 cup of nuoc mam sauce
1⁄2 tsp sesame seeds
Combine all the ingredients besides lamb and sesame oil, and mix well.
Place into a serving bowl.
Reheat the lamb in a pan with sesame oil for 1-2 minutes.
Place into the side of serving bowl.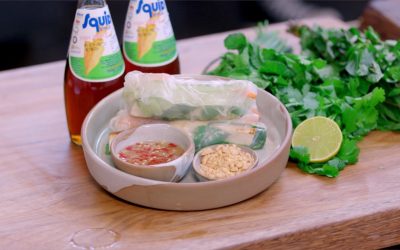 This recipe is brought to you by our friends at Asian InspirationsIngredients:Serves: 8 Prep Time: 10 mins Cook Time: 15 mins Main Ingredients: 1 packet rice paper 150g rice vermicelli noodles 1 bunch coriander 1 bunch Thai basil 1 bunch mint 1 bunch garlic chives 1⁄4...