Lamb Wellington
Ben O'Donoghue
Serves two
300gm trimmed lamb loin trimmed (middle cut)
1 tbsp chopped thyme
Salt
Pepper
1 tbsp dijon mustard
1 sheet frozen best quality puff pastry
Duxcelle
250 gm flat field mushrooms
1 clove garlic
50gm butter
Salt
Pepper
1 tbsp chopped parsley
Season the loin with finely chopped thyme and salt and pepper and allow to rest for 30min to infuse the flavours then seal in a hot pan on all sides until golden brown then allow to cool.
Finely chop the mushrooms and sweat off in butter with the garlic until the moisture cooks out of the mushrooms then add the chopped parsley and season with salt and pepper and allow to cool to room temp.
Role the puff pastry place the pastry sheet between two sheets of baking paper lightly dusted with flour and roll into a rectangle so that it is long enough to wrap the loin completely and is as wide as the loin.
Remove the top piece of baking paper and dust off any excess flour, cover 1/2 of the rectangle with the mushroom mixture equally. Smear the loin with an even covering of dijon mustard and place at the end of the pastry on top of the mushroom mix.
Roll the pastry away from yourself pulling back firmly so that the pastry is firm around the beef. Roll so that the mushroom layer and pastry completely wraps the lamb loin leaving 3cm of plain pastry, egg wash this and press together so that it sticks. Trim the edges so that they are flush with the meet. Make sure that the seam is at the bottom and remove the paper except for a rectangle underneath to bake upon. Egg wash the top and pace in the fridge to rest for 30mins
Preheat an oven to 180 degrease c and bake for 25 minutes until the pastry is dark golden in colour use a probe to test the temp. It should reach 45 degrees. Allow to rest for 10min then slice with a sharp knife into equal portions. Serve with steamed spinach or your favourite veg.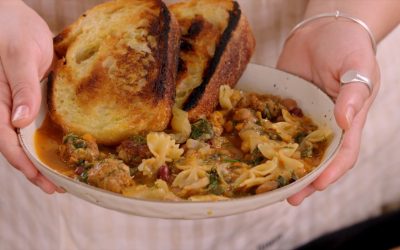 Ingredients: 4 Spicy Italian Sausages Packet of Farfalle Pasta 1 Leek 1 Carrot 1 Onion 2 Garlic 2 cups Shredded Cabbage 1 Chopped Silver Beet 1 400gm Tinned Beans 1 tsp Cumin powder 1 tsp Coriander  powder 1tsp Paprika powder 2 tbsp Tomato Paste Stock of your choice...