Leak and Chickpea soup
Ben O'Donoghue
4 x Leeks chopped and washed
1 medium potato peeled and chopped
1 clove of garlic chopped
1 x tin of Chickpeas drained
1L Massel Chicken stock
1-2 tbsp chopped parsley
2 tablespoons of Olive oil plus more to drizzle
50gm Parmesan cheese
Salt
Pepper
Heat 2 tablespoons of olive oil in a pot large enough for all your vegetables
Add the leeks and slowly cook to soften. Add the potato, garlic and chicken stock and cook until the potato is tender.
Add the tin of chickpeas.
Add half the mixture into a blender and blend until smooth.
Return to mixture, stir and serve with chopped parsley and Parmesan cheese.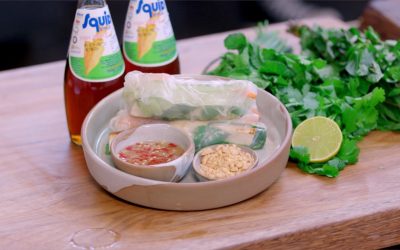 This recipe is brought to you by our friends at Asian InspirationsIngredients:Serves: 8 Prep Time: 10 mins Cook Time: 15 mins Main Ingredients: 1 packet rice paper 150g rice vermicelli noodles 1 bunch coriander 1 bunch Thai basil 1 bunch mint 1 bunch garlic chives 1⁄4...