Mediterranean Squid Salad
Khanh Ong
1 tbsp capers
Zest and juice of 1 lemon
EVOO
1 clove of garlic
50g roasted capsicum from a jar
3 anchovy in oil fillets
20g pine nuts
10g mint leaves pinch of salt
2 large squid, cleaned and gutted
a pinch of salt
To Serve (Garnish):
20g toasted pine nuts
3 slices of roasted capsicum from a jar.
mint leaves
Combine capers, lemon, 2 tbsp EVOO, finely chopped garlic, rough chopped capsicum, finely chopped anchovies, rough chopped pine nuts, chopped mint and salt in a medium mixing bowl and set aside.
Remove squid tentacles and set aside. cut the squid tube on one side to open and score the inside.
Cut into two finger sized pieces.
On a hot griddle pan cook tentacles and set aside, cook the squid pieces scored side down for 1 minute than flip for another minute and season with a pinch of salt.
Dunk all the cooked squid hot directly into the salsa to coat.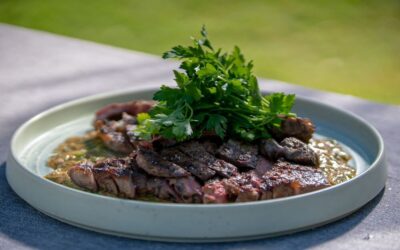 Ingredients: Serves: 2-4 2 x 250g T-bone or Rump steak Sea salt 2 Tbsp Olive oil 2 Tbsp Butter 1 brown onion, diced 2-3 cloves garlic, finely chopped 1 tsp dried chilli flakes 2 tsp dried mixed herbs 40 'twists' cracked black pepper 2 chicken stock cubes, crumbled 2-3...