Middle Eastern Spiced Lamb San Choy Bow
Khanh Ong
Lamb San Choy Bau:
250g lamb mince
1⁄4 red onion finely chopped
2 tbsp of parsley chopped
2 tbsp mint chopped
1 tsp of ground cumin
1 tsp ground coriander
1⁄2 tsp chili flakes
1⁄4 cup of pine nuts
2 tbsp sultanas
1⁄2 tsp of salt
1 tbsp EVOO
1 cup of cooked couscous
Yoghurt Dressing:
1 cup of Jalna Greek yoghurt
1⁄2 a lebanese cucumber grated
1⁄2 tsp of cumin
1 clove of garlic minced
Rind and juice of a lemon
A pinch of sea salt
To Serve:
6 small iceberg lettuce leaves
1⁄4 cup of roasted pine nuts
coriander leaves
Combine all ingredients in mixing bowl except EVOO and couscous
Pour 1⁄2 the EVOO into a hot pan on high heat and add half the mince mixture and cook while constantly stirring for 7-10 minutes or until brown, repeat with other half.
Mix the cooked lamb with couscous and set aside. :
For dressing, mix all ingredients together in a mixing bowl
Place 1/6 of the lamb mixture into an iceberg lettuce leaf
Top with a heaped tbsp of the Jalna yoghurt dressing
Scatter a few pine nuts over and top with coriander leaves
Our friends at Wine Selectors recommend pairing this dish with a Cabernet Sauvignon or Shiraz Cabernet Sauvignon Merlot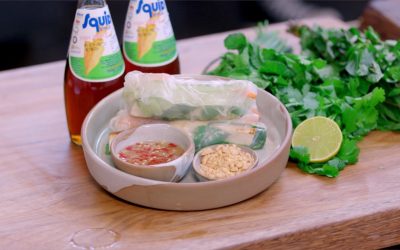 This recipe is brought to you by our friends at Asian InspirationsIngredients:Serves: 8 Prep Time: 10 mins Cook Time: 15 mins Main Ingredients: 1 packet rice paper 150g rice vermicelli noodles 1 bunch coriander 1 bunch Thai basil 1 bunch mint 1 bunch garlic chives 1⁄4...