Mushroom Risotto
Mike Reid
Mushroom Stock:
500g Mixed mushrooms (King oyster, shitake, flat etc)
500ml Vegetable or Chicken stock
Risotto:
250g Mixed mushrooms, (King oyster, shitake, flat etc)
1 onion brown
275ml White wine
170g risotto rice
500ml Vegetable stock
100g Parmesan
Dice 1 onion into an equal sized brunoise.
Dry cook your rice for 1 minute before adding your onions and butter to the pan, cook out until the onions are soft and translucent. (allowing the risotto rice to absorb the fat), deglaze with white wine, and cook until almost gone.
Add vegetable stock in small ladles, allowing the risotto to cook slowly and evenly. (it is essential that there is not too much risotto in the pan, too much causes uneven cooking)
In a separate pan, sautee your mushrooms in butter over a medium heat.
When your risotto is almost ready add your parmesan, mushrooms and butter and emulsify
Finish with extra parmesan on top and enjoy.
Our friends at Wine Selectors suggest pairing this dish with a Nebbiolo.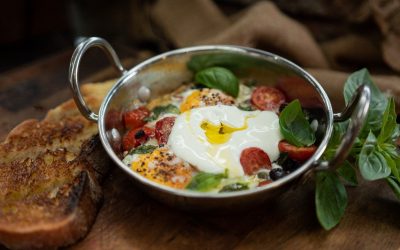 Ingredients: 9 cherry tomatoes, halved 1 small garlic clove, thinly sliced 2 tsp good-quality olive oil 1 tsp balsamic vinegar 5 basil leaves, torn, plus a few extra to serve if you like 5 pitted olives, sliced 2 large free-range egg 1 tsp small capers, rinsed salt...