Mussles in Hot and Sour Soup
Karen Chan
105g Safcol Chilean Mussels in Spanish Escabeche sauce
1tbsp oil
4 clove garlic, minced
4 slices ginger, minced
1 tbsp Chinese cooking wine
4 shiitake mushrooms, soaked and then finely sliced
225 g canned bamboo shoots, drained and julienned
800 ml chicken stock (you may substitute this with vegetable or fish stock)
1 tsp Chinese black vinegar
300 g soft tofu, cut to 6 slices
½ tsp sesame oil
¼ tsp white pepper
½ tsp chilli flakes (use as much or as little as you'd like, to your taste)
Soy sauce, to season to taste
1 egg, beaten
Roux:
Mix 1tsp corn flour with 1 tsp water
Garnish:
Chopped spring onions
Fresh coriander
In a pot on medium heat, add the oil and then fry ginger and garlic until slightly brown.
Add shiitake and bamboo shoots to fry for a minute and then gently add wine.
Add stock, vinegar, tofu, sesame oil, white pepper, chili flakes and Mussels in sauce, bring it to a boil then lower the heat and leave the soup to simmer for 5 minutes. Using a spoon, you may break up the tofu to smaller chunks.
Season to taste with soy sauce.
Pour in the roux to thicken the soup and then drizzle in the beaten egg.
To serve, garnish with herbs and an extra dash of white pepper.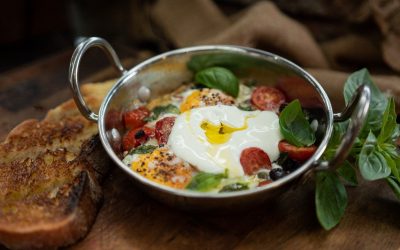 Ingredients: 9 cherry tomatoes, halved 1 small garlic clove, thinly sliced 2 tsp good-quality olive oil 1 tsp balsamic vinegar 5 basil leaves, torn, plus a few extra to serve if you like 5 pitted olives, sliced 2 large free-range egg 1 tsp small capers, rinsed salt...