Nonna Maria's Aranchini
Laura Sharrad
1 onion, finely diced
2 garlic cloves, finely diced
400g tinned tomatoes
1/2 bunch basil leaves
5 cups arborio rice
1 chicken stock cubes
1/2 cup grated mozzarella cheese
1/4 cup grated parmigiano cheese
1 egg
20 bocconcini
2 cups fresh breadcrumbs
Sea salt flakes
Oil, for frying
Heat the olive oil in a medium saucepan and sauté the onion and garlic over a medium heat until they're a light golden colour, about 3 minutes.
Purée the chopped tomatoes before adding them to the pan. Season the mixture with salt and pepper and add the sugar. Add the basil and cook over a medium heat for about 20 minutes. Set aside to cool.
While the sauce is cooking, rinse the rice under cold running water a few times. Pour 750ml litres of water into a saucepan, add the rinsed rice and stock cubes, and bring to a boil. Then turn down the heat and continue to cook the rice until tender. This should take about 20 minutes.
Once the rice is cooked, put it in a bowl and allow it to cool down a bit. Once cooled, combine with the eggs, grated cheeses and cooled sauce. If the mixture is too wet to handle, add some breadcrumbs to improve the texture.
First up, roll about half a cup of mixture into a ball, stuff the middle with a bocconcini ball or piece of mozzarella, and shape the arancini ball into a pyramid shape.
Continue to do this for the rest of the mixture. You should end up with about 20 arancini balls.Gently roll each arancino in the breadcrumbs and place on a tray. Refrigerate for 3 hours, or overnight.
Pour canola oil into a saucepan until one-third full. Set over a high heat until the oil is approximately 180°C. To test whether the oil is ready, place a piece of breadcrumb into the oil – if it turns golden straight away, it's ready. Add the arancini 2 or 3 at a time, depending on the size of the saucepan. They should take 3–4 minutes to cook. Turn throughout the cooking time to ensure they are evenly browned. Drain on a paper towel. Continue with the remaining arancini.
Sprinkle with sea salt and serve hot.
Our friends at Wine Selectors suggest pairing this dish with a Pinot Grigio.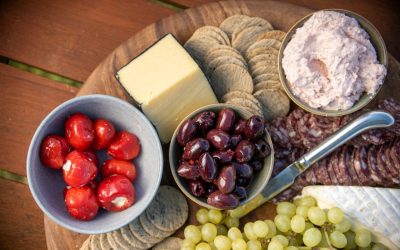 Ingredients: Hard Cheese Soft Cheese Blue Cheese 1 baguette  A bunch of Green Grapes Honeycomb Salami (sliced) Smoked Salmon Dip Artisan Crackers Beetroot dip Poppy Seed Skordalia Dip Dukkah Stuffed Bell Peppers Marinated Olives (pitted) Method: There are no rules or...