Pepper Steak and Blue Cheese Pie
Ben O'Donoghue
1kg of chuck, flank, shin or brisket trimmed and cut into 3cm cubes
2 clove of garlic
1 small bunch of thyme
1 tspn of black peppercorns
500ml Guinness or dark ale
8 shallots peeled
1 tbsp vegemite
500gm bought puff pastry
100gm Stilton blue cheese or similar
Celery salt
1 egg yolk
Combine the diced beef with the Guinness, thyme, garlic and peppercorns and marinate for at least 3 hours.
After marinating the beef drain and reserve the liquid. Pat dry the beef and dredge in seasoned flour and fry in small batches until brown and set aside.
Then place the sealed beef into a casserole dish with the shallots and the marinade. Add the vegemite and cook gently over a low heat or in a low oven for approximately 2 and half hours.
The meat should be very tender, season with celery salt and allow cooling.
Grease a pie dish with butter. Then roll out the puff pastry and cut two discs – one large enough to line the dish and another to form the lid.
Fill the lined pie dish with the beef mixture and then brush the edges with the egg yolk. Crumble the cheese over the top of the pie filling. Place the lid over the pie dish and seal with firm crimps or the back of a fork to adhere the two pieces of pastry.
Brush the lid with the remaining egg yolk and place into an oven preheated to 180 degrees and cook for between 45 – 60 minutes.
Serve with your favourite greens.
Our friends at Wine Selectors suggest pairing this dish with a Peter Drayton Anomaly Vermentino 2018 or Comyns & Co Pinot Shiraz 2018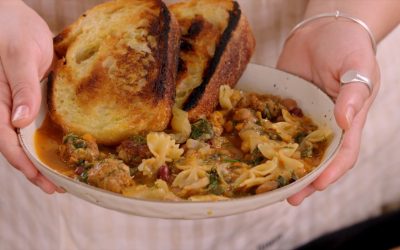 Ingredients: 4 Spicy Italian Sausages Packet of Farfalle Pasta 1 Leek 1 Carrot 1 Onion 2 Garlic 2 cups Shredded Cabbage 1 Chopped Silver Beet 1 400gm Tinned Beans 1 tsp Cumin powder 1 tsp Coriander  powder 1tsp Paprika powder 2 tbsp Tomato Paste Stock of your choice...