Pimped Damper
Ben O'Donoghue
Laucke Scone Mix
1 – 2 cups Chopped herbs, chives, parsley, basil, dill
diced cheddar cheese
Garlic Butter
1 cup soft Salted butter soft
4 cloves Garlic smashed
Herbs dill, basil, parsley, chives
Mix the packet instructions and add in herbs and cheese. Bake in a cake tin according to packet instructions.
Garlic Butter
Soften the butter at room temp
Add the chopped herbs
Smash the garlic in a pestle and mortar with a pinch of salt to a paste and
Add to the butter
Serve with the hot damper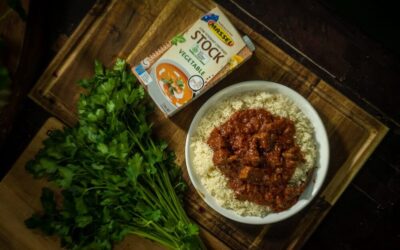 Ingredients: 1 1⁄2 kg round steak, cleaned and cut into cubes 3 cans of roma tomatoes, crushed by hand 1 onion, finely diced 2-3 cloves of garlic 1⁄2 cup of olive oil, plus an additional 2 tbsp 1tbsp red wine vinegar 1L water or chicken stock (optional) 1tbsp tomato...