Pork Larb Plated Two Ways
Khanh Ong
2 shallots roughly chopped
2 garlic cloves
20g ginger
2 birds eye chilis
3 coriander roots with half stem
1 tbsp peanut oil
300g pork mince
80g water chestnut brunoise
3 tsp fish sauce
1 tbsp palm sugar grated
2 tsp kecap manis
1 long red chili
1⁄2 bunch thai basil
1⁄4 bunch of mint
1⁄4 bunch of coriander
To Serve:
Plate 1:
1 thick slice of watermelon
Crushed peanuts
thinly sliced red chili
Plate 2:
100g cooked hokkien noodles
thai basil leaves
Pound shallots, garlic, ginger, birds eye chili and coriander root in a mortar and pestle to a paste
In a wok fry off the paste with peanut oil.
Add pork mince and water chestnuts and cook for 3-5 minutes until pork is cooked through
Add fish sauce, sugar ad kecap manis and cook for another 2-3 minutes or until dry.
Remove from heat and mix through chopped chili, and herbs roughly chopped.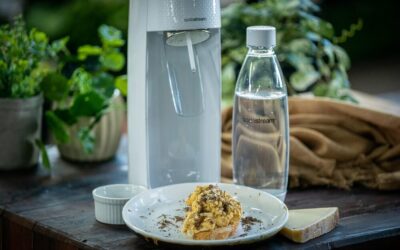 Ingredients: Serves 4 12 eggs, best quality you can afford 150ml sparkling water 2 tablespoons freshly grated parmesan Sea salt and freshly cracked pepper 20g butter 4 thick slices of sourdough, toasted/charred Method: Mix together the eggs, sparkling water, parmesan...