Pork Larb Plated Two Ways
Khanh Ong
2 shallots roughly chopped
2 garlic cloves
20g ginger
2 birds eye chilis
3 coriander roots with half stem
1 tbsp peanut oil
300g pork mince
80g water chestnut brunoise
3 tsp fish sauce
1 tbsp palm sugar grated
2 tsp kecap manis
1 long red chili
1⁄2 bunch thai basil
1⁄4 bunch of mint
1⁄4 bunch of coriander
To Serve:
Plate 1:
1 thick slice of watermelon
Crushed peanuts
thinly sliced red chili
Plate 2:
100g cooked hokkien noodles
thai basil leaves
Pound shallots, garlic, ginger, birds eye chili and coriander root in a mortar and pestle to a paste
In a wok fry off the paste with peanut oil.
Add pork mince and water chestnuts and cook for 3-5 minutes until pork is cooked through
Add fish sauce, sugar ad kecap manis and cook for another 2-3 minutes or until dry.
Remove from heat and mix through chopped chili, and herbs roughly chopped.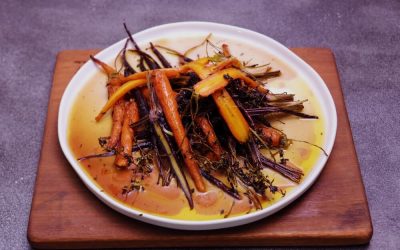 Join Elena Duggan as she creates her Honey Herbed Carrots recipe. Tune in to The Market kitchen each weekday on Channel 10.