Pork Meatballs in White Wine and Sage
Laura Sharrad
1kg pork mince
1 brown onion, finely diced
2 cloves garlic, finely diced
1 cup grated parmigiano cheese
1 egg
1/2 cup fresh breadcrumbs
Plain flour, for dusting
White Wine Sauce:
2 cups white wine
1 bunch sage leaves
2 sprigs of rosemary
2 bay leaves
6 cloves garlic
2 tbsp butter
Fry the onion & garlic in a frypan until soft & caramelised, on a medium heat for about 5 minutes.  Cool
In a large mixing bowl, mix the mince, onion mix, cheese, breadcrumbs, egg & season with salt and pepper.  Mix well to allow the protein in the meat to become a little sticky.  Roll into balls, and dust lightly in flour.
Heat a large frypan & begin to brown off the meatballs on each side.  Once browned, add the butter and allow to melt.  Deglaze with the wine and add the aromatics.  Place a lid onto & allow to bubble away for about 20-30 minutes, depending on the size of the meatballs, and until the sauce has thickened.
Our friends at Wine Selectors suggest pairing this dish with a Nero d'Avola.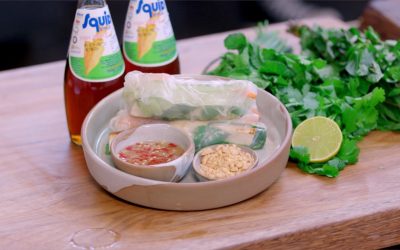 This recipe is brought to you by our friends at Asian InspirationsIngredients:Serves: 8 Prep Time: 10 mins Cook Time: 15 mins Main Ingredients: 1 packet rice paper 150g rice vermicelli noodles 1 bunch coriander 1 bunch Thai basil 1 bunch mint 1 bunch garlic chives 1⁄4...