Portuguese Sardine Fritters
Karen Chan
Serves:10-12 pieces
110g Safcol Sardines in Springwater, drained
200g mashed potatoes
1/2 cup chopped parsley (flat or frilly leaf parsley works well)
1 large or 2 small shallots, finely diced
1 egg
1/4 tsp salt
Oil for deep frying
To Serve
Side salad
Wedge of lemon
Tartare sauce
In a mixing bowl, gently breakup sardines, and then add remaining ingredients and mix to combine. Place in the fridge for 30 minutes to chill and firm up.
Heat a pot with 3cm-deep oil on low heat.
When the oil is ready for frying, scoop out 2tsp of the fritter mix and shape into a ball. Gently drop the fritter into the oil. Repeat with remaining fritter mix.
Fry until golden brown.
Serve as finger food, or with salad for a light meal.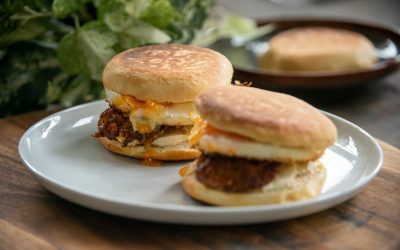 Ingredients: 300ml milk, plus extra 7g sachet of dried yeast 25g white caster sugar 50g shortening or lard 425g plain flour, plus extra 20g polenta, optional Unsalted butter Method: Gently warm the milk in a pan until lukewarm or body temperature, 37ºC. Add the yeast...