Ricotta Gnocchi Spiced Pork Ragu
Laura Sharrad
Serves: 4
300g ricotta cheese (firm)
3 whole eggs
100g grated parmesan cheese
Nutmeg (freshly ground)
300g Plain flour 0000 plus some for dusting
Pork Ragu:
2 tbsp. olive oil
1 large garlic clove, finely chopped
1 chilli, finely chopped
700g (1 1⁄2 lb) pork mince
100g (3 1⁄2 oz) tomato purée
125ml (4 oz) dry white wine
400g tin chopped tomato
Large handful basil, roughly chopped
Parmesan shavings, to serve
Place the ricotta, grated parmesan cheese, and eggs into a bowl and using a wooden spatula mix until combined
Season with nutmeg, salt and pepper
Start adding the flour in small batches. Based on the texture and add more or less flour
Work until a dough has formed but don't over work it
Roll into long strips and then cut to desired length
Sprinkle flour onto them and let them rest until ready to cook
Cook in boiling salted water until they float
Pork Ragu:
To a frying pan, add olive oil garlic and chilli and fry off
Add the rest of your ingredients and simmer for 20 minutes.
Serve with basil and parmesan
Our friends at Wine Selectors suggest pairing this dish with a Montepulciano.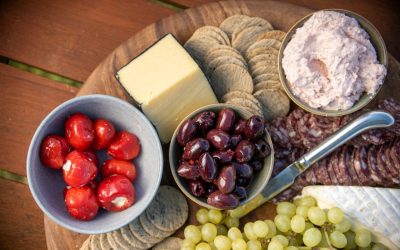 Ingredients: Hard Cheese Soft Cheese Blue Cheese 1 baguette  A bunch of Green Grapes Honeycomb Salami (sliced) Smoked Salmon Dip Artisan Crackers Beetroot dip Poppy Seed Skordalia Dip Dukkah Stuffed Bell Peppers Marinated Olives (pitted) Method: There are no rules or...