Roast Duck Pho
Elena Duggan
Raw carcass of 1 duck, reserve legs and breast meat for another dish
150g/ 1lge Onion, thinly sliced into crescents
1head Garlic, loosely broken up and lightly broken up
2 x 10cm thumbs Ginger, lightly lightly broken up
5-10 Star anise
10-15 Cloves
10-15 Black peppercorns
10-15 Coriander seeds
3 x 10cm Cinnamon sticks
3-5 Stalks coriander, separated roots and stems, reserve leaves, thoroughly washed
3kg Chicken stock
1kg Water
100g Fish sauce, or to taste
White pepper, to taste
Granulated stevia or caster sugar to taste, optional
To Serve:
Reserved pulled duck meat as per method
Prepared flat rice noodles
150g / 1lge Onion, thinly sliced into crescents
Thai basil, leaves only
Vietnamese mint, leaves only
2 Spring onions, finely sliced on an angle
Red chili, finely sliced
Chili oil / chili sauce / XO sauce
Hoisin sauce, to taste
1lge Lime, quartered
100g bean shoots
Preheat fan forced oven to 160° Celsius.
Using a cleaver, break duck carcass down into 2-5cm chunks, bones and all.
In a large oven proof dish, or baking pan, the spices and aromats along the bottom, place all duck pieces on top.
Roast for 35-45minutes or until well caramelised and fat is almost all rendered. Stir, shiffle or loosen twice during cooking. If you'd prefer a darker roast, soup flavour, you can add another 15minutes to the cooking time.
Remove pan from oven and deglaze with approximately 500g of the chicken stock, dislodging any sediment. Place all contents into a large stock pot and add all remaining stock and water.
Cook on a low simmer for 3-6 hours – alternatively on low in a slow cooker for 8 hours, or 90minutes in a pressure cooker.
During cooking, 3-4times, skim off the scum that rises to the surface of the broth, then lower the heat to a simmer.
You may need to add more water if necessary to keep the ingredients covered throughout cooking.
After cooking, strain all solids, return all liquid to pot and continue simmering on low.
Using food safe gloves to protect your hands from the heat, strip any duck flesh from the bones, ensuring no dislodged bone fragments are present, and put aside for serving
Season the broth with the fish sauce and white pepper to taste.
To serve, divide noodles, onion, chili, duck flesh among 4 soup bowls and top with the broth.
Top all bowls with herbs and bean sprouts.
Serve with the chili oil/ sauce, hoisin sauce, and lime wedges on the side. 
Gluten free
Grain free, optional – use daikon noodles instead of rice noodles
Sugar free, low fructose, zero refined sugar
Dairy free
Nut free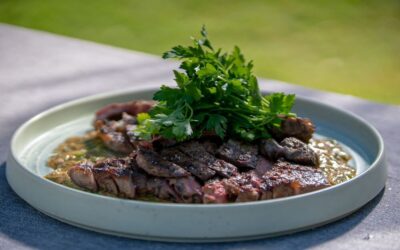 Ingredients: Serves: 2-4 2 x 250g T-bone or Rump steak Sea salt 2 Tbsp Olive oil 2 Tbsp Butter 1 brown onion, diced 2-3 cloves garlic, finely chopped 1 tsp dried chilli flakes 2 tsp dried mixed herbs 40 'twists' cracked black pepper 2 chicken stock cubes, crumbled 2-3...