Roasted Pumpkin, Pumpkin Seed and Miso Puree
Mike Reid
Crown Pumpkin (or similar)
Pumpkin Puree:
250g Pumpkin seeds
100g Miso
500g Spanish Onion
100g Butter
Pumpkin Puree:
Roast pumpkin seeds at 200 degrees until golden
Sweat down onions in butter until nice and golden
Once all cooked blitz together in blender and season to taste
Charcoal Cooked Pumpkin:
Cut pumpkin into wedges
Cook over the hibachi grill basting in butter. Don't be afraid of the blackening, this equals flavour. Just ensure you're cooking it slowly and keep basting to keep it moist and enhance the flavour.
Place your pumpkin and miso puree down first then top with your charcoal pumpkin.
Our friends at Wine Selectors suggest pairing this dish with a Chardonnay.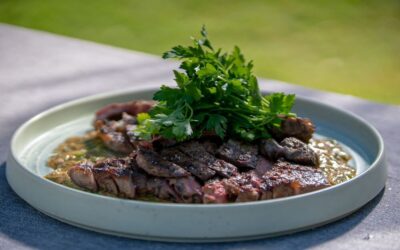 Ingredients: Serves: 2-4 2 x 250g T-bone or Rump steak Sea salt 2 Tbsp Olive oil 2 Tbsp Butter 1 brown onion, diced 2-3 cloves garlic, finely chopped 1 tsp dried chilli flakes 2 tsp dried mixed herbs 40 'twists' cracked black pepper 2 chicken stock cubes, crumbled 2-3...