Salami and Bean salad
Khanh Ong
1 tbsp EVOO
1⁄2 a brown onion finely chopped
1 clove of garlic crushed
40g hot salami chopped
200g tomatoes chopped
2 tbsp of Shiraz
1 tsp smoked paprika
1 heaped cup of peeled broad beans
a pinch of salt
2 slices of Charred crusty bread
1 tbsp of chopped mint
Add EVOO to a medium saucepan on medium heat with brown onion for 5 minutes to soften.
Add garlic and salami to the pan and cook for 2 minutes.
Add the smoked paprika, tomatoes, Shiraz, and simmer for 5-8 minutes or until thickened.
Add broad beans, salt and simmer for 2 minutes.
Top bread with the mixture and finish by topping with mint, then serve.
Our friends at Wine Selectors recommend pairing this dish with a Shiraz or Grenache.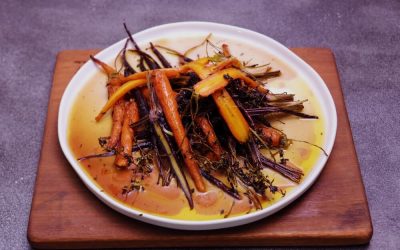 Join Elena Duggan as she creates her Honey Herbed Carrots recipe. Tune in to The Market kitchen each weekday on Channel 10.