Salami and Bean salad
Khanh Ong
1 tbsp EVOO
1⁄2 a brown onion finely chopped
1 clove of garlic crushed
40g hot salami chopped
200g tomatoes chopped
2 tbsp of Shiraz
1 tsp smoked paprika
1 heaped cup of peeled broad beans
a pinch of salt
2 slices of Charred crusty bread
1 tbsp of chopped mint
Add EVOO to a medium saucepan on medium heat with brown onion for 5 minutes to soften.
Add garlic and salami to the pan and cook for 2 minutes.
Add the smoked paprika, tomatoes, Shiraz, and simmer for 5-8 minutes or until thickened.
Add broad beans, salt and simmer for 2 minutes.
Top bread with the mixture and finish by topping with mint, then serve.
Our friends at Wine Selectors recommend pairing this dish with a Shiraz or Grenache.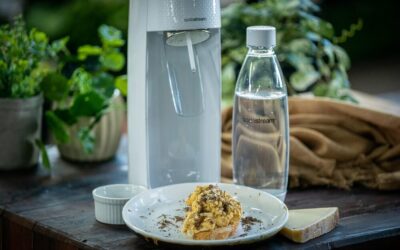 Ingredients: Serves 4 12 eggs, best quality you can afford 150ml sparkling water 2 tablespoons freshly grated parmesan Sea salt and freshly cracked pepper 20g butter 4 thick slices of sourdough, toasted/charred Method: Mix together the eggs, sparkling water, parmesan...