Sardines on Toast
Ben O'Donoghue
2 slices Sourdough bread
1 tin Safcol sardines
1-2 tbsp black garlic aioli
Olive oil
Black Garlic Aioli
Makes 500gm
1 cup raw Cashews soaked in cold water
200mls extra virgin olive oil
60mls lemon juice
10mls apple cider vine
30gm Dijon mustard
30gm onion shallots
10gm black garlic (fermented)
Salt and pepper
Toast or char grill the sour dough until well toasted
Spread the sourdough bruschetta with the aioli
Squash the drained sardines onto the toast and season with salt and cracked black pepper
Black Garlic Aioli
Soak the nuts for at least two hours or overnight.
Drain and reserve the water. Place in a high speed food processor along with all the remaining ingredients except the oil. smooth.
Continue to Blend slowly adding the oil. Adjust consistency with the drained water.
Adjust seasoning as required.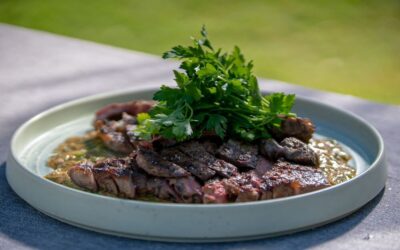 Ingredients: Serves: 2-4 2 x 250g T-bone or Rump steak Sea salt 2 Tbsp Olive oil 2 Tbsp Butter 1 brown onion, diced 2-3 cloves garlic, finely chopped 1 tsp dried chilli flakes 2 tsp dried mixed herbs 40 'twists' cracked black pepper 2 chicken stock cubes, crumbled 2-3...