Seafood Chowder
Ben O'Donoghue
Makes four good size portions
2kg pippies purged
Fish stock
1 bottle of dry white wine
1 leek medium/large white only diced
80g butter
250g sweet cured streaky bacon diced
2 sticks of celery diced
2 medium potatoes diced
1/2 bunch of thyme
1 pint of cream
1 lemon
2-3 tbsp flour
2 tbsp chopped parsley
2 handfuls of croutons cooked in clarified butter and seasoned
Cook the pippies in batches, steaming them just open with all the white wine. Remove the pippie meat from the shells and retain the liquid and the meat separately.
In a none- stick pot, melt the butter and add the leek and celery and gently cook without colour until soft and sweet. Then add the bacon and potato and cook until translucent.
Sprinkle the bacon and veg with the flour and cook for about two minutes. Throw in the thyme whole then gradually add the pippie liquid stirring continuously until you smooth slightly thick soup.
Allow to cook over a low heat until the potatoes are tender then add the cream. Adjust the seasoning with a touch of lemon and salt and pepper.
To serve, add the pippie meat back to the soup to just warm through as if you cook them too much they will become tough. Garnish each bowl of chowder with some croutons and chopped parsley.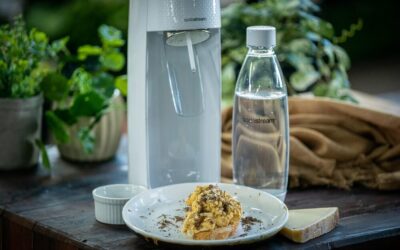 Ingredients: Serves 4 12 eggs, best quality you can afford 150ml sparkling water 2 tablespoons freshly grated parmesan Sea salt and freshly cracked pepper 20g butter 4 thick slices of sourdough, toasted/charred Method: Mix together the eggs, sparkling water, parmesan...