Shanghainese Smoked Fish
Leslie Chan
Recipe brought to you with the help of our friends at Asian Inspirations
Serves: 2
5 carp, pomfret or kingfish steaks
1/4 tsp salt
1 tsp five spice powder
1 tsp white pepper
Marination Sauce:
1/2 cup ABC Sweet Soy Sauce (Kecap Manis)
3 cloves garlic, smashed
2 slices ginger
2 cinnamon sticks
2 star anise
2 tbsp Shao Xing rice wine
1/2 cup water
1⁄2 tsp Yeo's Pure Sesame Oil
Garnish:
Spring Onion and sesame seeds
To Prep:
Wash and then dry fish steaks thoroughly with kitchen paper.
Chop the steaks in half, chopping just to the side of the spine bone.
Mix salt, five spice powder and white pepper, then sprinkle all over the fish steaks. Let marinate for 10 mins.
Marination Sauce:
Add all ingredients for the sauce into a small pot and stir over low heat for 5 minutes to get all the flavour
Pour into a bowl big enough to fit all the fish and let cool to room temperature.
To Cook:
Heat up 2 cups of oil in a small pot.
Slide the fish into the hot oil, a couple of pieces at a time, and fry until the fish is a golden brown.
Remove to kitchen paper covered plates to let excess oil drain off. Repeat for all pieces of fish.
When the fish has cooled, add them to the sauce, making sure the pieces are submerged into the sauce and let sit at room temperature for 2 hours before serving or cover and let it marinate overnight in the fridge.
Place the fish onto a serving plate and drizzle with the sauce.
Our friends at Wine Selectors suggest pairing this dish with a Rose'.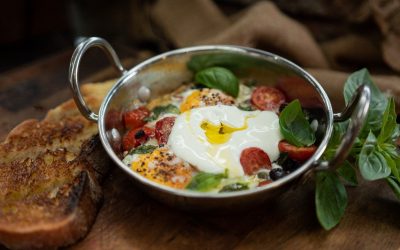 Ingredients: 9 cherry tomatoes, halved 1 small garlic clove, thinly sliced 2 tsp good-quality olive oil 1 tsp balsamic vinegar 5 basil leaves, torn, plus a few extra to serve if you like 5 pitted olives, sliced 2 large free-range egg 1 tsp small capers, rinsed salt...