Smashed Peas on Toast
Elena Duggan
500g frozen peas, defrosted
50g EVOO
1 garlic clove, crushed with salt
1 lemon, juice and zest
75g EVOO
25g Parmesan cheese, finely grated, extra to serve
½ bunch Mint, leaves only, shredded, extra to serve
½ bunch Pea shoots
4 slices homemade bread (GF/ SF)
8 eggs
White pepper, to taste
Salt, Murray River pink, to taste
Optional
For extra good fats and protein add smoked or freshly cooked salmon to each dish.
Very briefly blanche peas in boiling water, drain well.
In a food processor pulse blitz peas and EVOO until a coarse puree texture, put aside. Peas can last like this in the fridge in an airtight container, if you'd like to prep ahead of time
In a bowl mix peas, garlic, lemon juice and zest, Parmesan, mint and enough EVOO to loosen mixture.
To poach the eggs, bring to the boil a large saucepan approx. 4L of water, and then reduce to a gentle simmer. Create a whirlpool in the barely bubbling water. Crack each egg into a small bowl, before gently sliding it into the centre of the whirlpool. Repeat until all cooked. For runny yolks, scoop out eggs when all white has just turned opaque, with a spider strainer and place on paper towel if necessary for extra drainage.
Whilst eggs are poaching, toast your bread and place a generous scoop of your pea mixture on top creating a slight well for the eggs to rest on.
Place two poached eggs on top and serve with extra Parmesan, mint and pea shoots, pepper and salt to taste.
Notes
If you're more confident boiling eggs, peeled soft-boiled eggs are an easy poached egg replacement, or can be cooked ahead of time for faster prep.
Gluten free
Grain free
Low Fructose / zero refined sugar
Keto Friendly
Vegetarian
pescatarian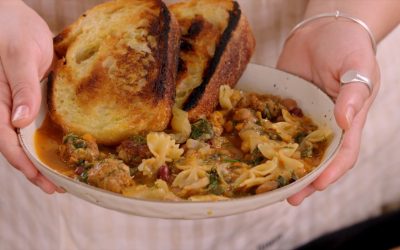 Ingredients: 4 Spicy Italian Sausages Packet of Farfalle Pasta 1 Leek 1 Carrot 1 Onion 2 Garlic 2 cups Shredded Cabbage 1 Chopped Silver Beet 1 400gm Tinned Beans 1 tsp Cumin powder 1 tsp Coriander  powder 1tsp Paprika powder 2 tbsp Tomato Paste Stock of your choice...