Spatchcock Chicken, Mojo Rojo Sauce
Mike Reid
Recipe brought to you with the help of our friends at BIG4

Serves: 4
1 Free-range spatchcocked Chicken (about 2kg)
1 Sweet potato, baked
100ml Yoghurt
½ bunch dill, chopped
1 Mango, overripe
1 Shallot, roughly chopped
1 Garlic clove, sliced
1 Thai Red Chilli, chopped
1 Lime, juiced
1 Bay Leaf
50g Caster Sugar
50ml Rice Vinegar
Spiced Mango Puree:
Heat a small pot on a stove over a medium heat, add all ingredients and cook slowly until soft, ensuring it does not catch on the bottom of the pan. Remove from heat and allow to cool slightly
Pour into a food processor and blitz until smooth.
To Finish:
Remove the back bone from your chicken with a sharp knife, you want to be left with just the spatchcock (ideally purchase in like this to avoid the extra work)
Coat the chicken in the marinade (reserving a small amount for basting later) and leave for at least 1 hour before cooking.
Cook over your bbq on a medium heat, basting every few minutes to ensure it stays nice and moist.
It should be a gorgeous golden colour, slightly crispy and charred in places when cooked. Serve with a little more of the marinade if you like, works equally well as a sauce.
Our friends at Wine Selectors suggest pairing this dish with a Shiraz Viognier.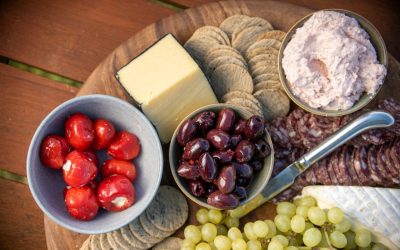 Ingredients: Hard Cheese Soft Cheese Blue Cheese 1 baguette  A bunch of Green Grapes Honeycomb Salami (sliced) Smoked Salmon Dip Artisan Crackers Beetroot dip Poppy Seed Skordalia Dip Dukkah Stuffed Bell Peppers Marinated Olives (pitted) Method: There are no rules or...