Special Fried Rice, Broccoli, Chinese Broccoli and Peas
Mike Reid
Recipe brought to you with the help of our friends at Velisha Farms
2 tbsp vegetable oil
1 tbsp sesame oil
1 clove garlic, chopped
1 tbsp fresh ginger, chopped
2 free-range eggs
225g pre-cooked chilled long grain rice
3 spring onions, finely chopped
100g frozen peas, thawed and drained
80g Broccoli, stalks included
80g Chinese broccoli
1 Tbsp Crispy shallots
1 Tsp Crispy garlic
Salt and pepper
Heat the vegetable and sesame oil in a wok or large frying pan until it is very hot. Add the garlic and ginger and cook briefly, stirring all the time.
Add the broccoli followed by the chilled rice. Season with salt and pepper and stir fry for about 5 minutes on a high heat.
Beat the eggs together and add to the pan. Stir fry until the eggs have set.
Add the rest of the greens to the wok and warm through.
Our friends at Wine Selectors suggest pairing this dish with a Sauvignon Blanc.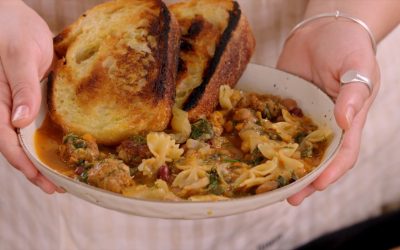 Ingredients: 4 Spicy Italian Sausages Packet of Farfalle Pasta 1 Leek 1 Carrot 1 Onion 2 Garlic 2 cups Shredded Cabbage 1 Chopped Silver Beet 1 400gm Tinned Beans 1 tsp Cumin powder 1 tsp Coriander  powder 1tsp Paprika powder 2 tbsp Tomato Paste Stock of your choice...