Spiced BBQ Chicken
Ben O'Donoghue
Serves 4
2 garlic cloves, roughly chopped
Salt
Zest and juice of 2 lemons
2 tablespoons good-quality curry powder
1 dried bird's eye chilli, seeded and crushed
70ml olive oil
Freshly ground black pepper
1x 1.6 kg chicken
2 bunches rosemary
1–2 bunches fresh bay leaves
Smash the garlic in a mortar with a little salt. Add all the lemon zest and half the lemon juice. Add the curry powder, chilli and olive oil. Season with pepper and mix well.
Remove the excess fat from around the chicken's backside and neck.
Starting at the neck end, carefully separate the skin from the meat, by sliding your hand under the skin, being careful not to break the skin. Do this to the whole chicken.
Using your hands, gently massage the spice paste everywhere under the skin of the chicken, and over the outside.
Prepare your barbecue for indirect cooking over a medium-high heat (180–200°C degrees if you have a thermometer).
Place the chicken directly on the grill, breast side up. Cover with the hood and cook for about 15 minutes, until the chicken begins to colour.
Plunge the herbs into fresh water to wet them well. Lift up the chicken and place the wet herbs directly underneath. Place the chicken over the herbs, bum side up.
Drizzle the remaining lemon juice over the chicken. Replace the hood and cook for 40–45 minutes, until the juices from the chicken run clear when the thigh is pierced.
Once cooked, allow to rest for 10–15 minutes.
Our friends at Wine Selectors suggest pairing this dish with Red Spinifex Garcon Grenache 2018 or White Peter Lehmann Wigan Riesling 2013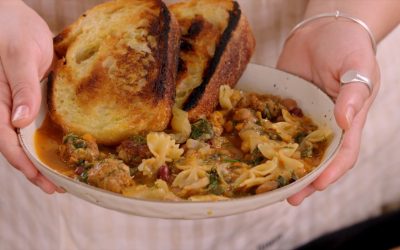 Ingredients: 4 Spicy Italian Sausages Packet of Farfalle Pasta 1 Leek 1 Carrot 1 Onion 2 Garlic 2 cups Shredded Cabbage 1 Chopped Silver Beet 1 400gm Tinned Beans 1 tsp Cumin powder 1 tsp Coriander  powder 1tsp Paprika powder 2 tbsp Tomato Paste Stock of your choice...