Sri Lankan Chicken and Pumpkin Curry
Simone Austin
Serves 4
500g peeled, cubed pumpkin
2 carrots, unpeeled, cubed
1 tablespoon extra virgin olive oil, plus some for drizzling vegetables
6 Scoops Glucerna powder
½ cup water
2 cups Basmati Rice (white or brown)
2 cloves garlic, finely chopped
2cm piece fresh ginger, peeled, finely chopped
1 large brown onion, finely chopped
1 tin coconut milk (400ml)
1 chilli, finely chopped
2 fresh tomatoes, chopped
500g chicken thigh fillets, cut into 2cm cubes
2 teaspoons sweet paprika
2 teaspoons ground coriander
1 teaspoon ground turmeric
1 teaspoon ground cumin
6 fresh curry leaves
2 cups baby spinach leaves
Fresh coriander for serving
1 chicken stock cube
½ cup water
1 lemon zest, grated, for garnishing
Preheat the oven to 200 degrees Celsius.
Place the pumpkin and carrot pieces on a lined baking tray. Drizzle with extra virgin olive oil and toss to coat.
Bake until tender, around 20minutes.
Cook the rice in a rice cooker or boil and drain.
In a small bowl or glass mix the Glucerna Powder with the water into a paste.
While the rice is cooking heat the oil in the pan and fry the chicken until golden brown and cooked through. Transfer to a plate. Add a little more oil and cook the onion until softened.
Add the garlic, ginger, tomato and all the spices and cook until fragrant for around 2minutes.
Add the coconut milk, Ensure mix, chicken stock cube and simmer until thickened.
Remove from the heat and add in the cooked chicken, baby spinach leaves and roasted vegetables.
Serve rice onto each plate, top with the curry and garnish with lemon zest and chopped fresh coriander.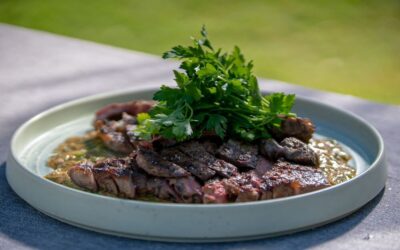 Ingredients: Serves: 2-4 2 x 250g T-bone or Rump steak Sea salt 2 Tbsp Olive oil 2 Tbsp Butter 1 brown onion, diced 2-3 cloves garlic, finely chopped 1 tsp dried chilli flakes 2 tsp dried mixed herbs 40 'twists' cracked black pepper 2 chicken stock cubes, crumbled 2-3...