Steak and Chips
Elena Duggan
1.6-2.1kg Rib eye with bone in, or Tomahawk cut (thick cut)
50g EVOO
Black pepper, to taste
Salt to taste
Potatoes
1.5kg Royal blue or Sebago potatoes, scrubbed well, sliced into 5-7mm rounds.
10g / 2tsp Onion powder
5g / 1tsp Sweet paprika
2.5g / ½ tsp White pepper
5g / 1tsp Salt
100g EVOO
2lge Lemons, zest and reserve juice
50g Red wine vinegar (optional, above lemon juice can be used in substitute)
25g / 1tbsp Dijon mustard
6 large Anchovy fillets, diced
1 bunch Coriander, leaves only, finely diced
1 bunch Flat leaf parsley, leaves only, finely diced
½ bunch Oregano, leaves only, diced
½ bunch Thyme, leaves only, diced
1 medium Red onion, finely diced
5 cloves Garlic, crushed
1 long Red chili, deseeded, finely diced
200g EVOO
Black pepper, to taste
Salt to taste
For the steak, remove the meat from the fridge at 20-40minutes before cooking to return it to room temperature. Coat all sides of steak generously with EVOO, pepper and salt. Set aside for up to 10minutes.
Preheat barbecue to high.
Sear or seal on all sides including the width and along the bone, up to a minute each side, before settling on one side, close barbecue hood and cook for up to 15minutes before testing internal temperature with a meat thermometer – remove when desired doneness is achieved as below:
55-60°C for very rare up to rare
63°C medium-rare
70°C for medium
Allow meat to rest for up to ten minutes before serving, carve and present on board or carve at the table for your guests.
While the meat is coming up to room temperature and sitting, prepare the potatoes. Preheat the flat side of the barbecue to med-high.
In a large bowl mix the spices, oil and potatoes thoroughly to ensure all slices are evenly coated.
Cook on the flat side of the barbecue, whilst flipping regularly to ensure even cooking for the first 5minutes. Potatoes may take up to 20minutes, you can close the lid for 5-10minutes at a time between flipping. Potato chips should be cooked through and crisping on the edges, some char is okay, but cook to your desired crispness.
Whilst the meat is resting and the potatoes are cooking, prepare the chimichurri. Place all solids into a large mortar and pestle and pound and grind until a rough paste is formed.
Loosen and mix with EVOO and acidity. Season with pepper and salt to taste.
Alternatively, you can use a food processor to combine the ingredients, but this may result in a much smoother paste without a pleasing textural and visual difference among the ingredients.
Serve steak, chips and a generous bowl of chimichurri on a shared board for guests to serve themselves.
Our friends at Wine Selectors recommend pairing this dish with a Shiraz or GSM.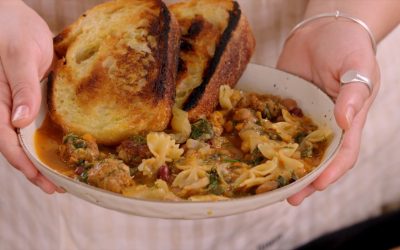 Ingredients: 4 Spicy Italian Sausages Packet of Farfalle Pasta 1 Leek 1 Carrot 1 Onion 2 Garlic 2 cups Shredded Cabbage 1 Chopped Silver Beet 1 400gm Tinned Beans 1 tsp Cumin powder 1 tsp Coriander  powder 1tsp Paprika powder 2 tbsp Tomato Paste Stock of your choice...