Steak Sandwich
Ben O'Donoghue
1kg skirt or flank steak, trimmed of sinew, but leave the fat
12 pide pieces, split in half lengthways
2 vine-ripened tomatoes, sliced
2 handfuls rocket
Marinade
2 garlic cloves, crushed
2 long red chillies
250ml olive oil
2 tablespoons sherry vinegar
2 tablespoons worcestershire sauce
1 tablespoon tinned chopped tomatoes
100ml kecap manis
1 teaspoon freshly ground black pepper
2 tablespoons thyme
Onion Confit
75g butter
5 large onions, finely sliced
1 tablespoon sugar
1 rosemary sprig
Honey-Mustard Mayonnaise
4 tablespoons Mayonnaise
1 tablespoon dijon mustard
2 teaspoons runny honey
Prepare the marinade by combining all the ingredients in a food processor and blitzing. Rub into the trimmed steak and leave to marinate in the refrigerator overnight, but for the best flavour for 2 days.
Prepare the onion confit by melting the butter over a low heat. Add the onions, sugar and rosemary, and cook slowly until soft, golden and sweet. The confit can be made in advance and will keep for 1 month in the refrigerator if stored in an airtight container.
To make the honey–mustard mayo, simply combine all ingredients well.
Remove the meat from the marinade, pat it dry and allow to come to room temperature.
Prepare your barbecue for direct grilling over a high heat. I recommend that you cook the steak to medium-rare and no more. Once cooked, allow the steak to rest.
Place the marinade in a small saucepan and cook until reduced.
To make each steak sandwich, spread the untoasted side of the bread with onion confit, add tomato and rocket, and dress with the mayonnaise. Slice the meat thinly, dress with the reduced marinade, place on top of your salad and top with a slice of toasted bread.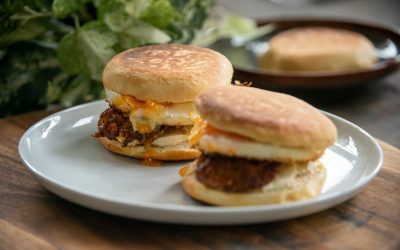 Ingredients: 300ml milk, plus extra 7g sachet of dried yeast 25g white caster sugar 50g shortening or lard 425g plain flour, plus extra 20g polenta, optional Unsalted butter Method: Gently warm the milk in a pan until lukewarm or body temperature, 37ºC. Add the yeast...