Tobie's Bolognese
Tobie Puttock
Serves:4-6
1 Spanish onion, peeled and finely diced
1 medium carrot, peeled and finely diced
2 sticks of celery, finely diced
Small handful of picked rosemary, roughly chopped
3 cloves garlic, peeled and finely chopped
Teaspoon dried chili (optional)
3 tablespoons extra virgin olive oil + extra for finishing
500g mince such as veal, beef or pork or a combination
200ml red wine
150ml milk
200ml stock
2 X (800g) tins chopped tomatoes
Sea salt and cracked pepper
Parmesan for grating
Heat the 3 tablespoons of extra virgin olive oil over a medium/ high heat in a pot that's large enough to hold all the ingredients. Add the onion, carrot, celery, rosemary, garlic and chili (if using) and sauté while stirring.
After about ten minutes the vegetables should be soft, increase the heat to high and add the minced meat, break the meat up using the spoon and cook it for 2-3 minutes or until it has started to brown.
Add the wine and allow it to almost completely evaporate before adding the stock, milk and tomatoes. Bring to the boil and immediately reduce to a gentle simmer for 30-40 minutes or until you have a thick and luscious sauce, at this stage you can adjust the seasoning with a good pinch of salt and pepper.
To serve ladle hot sauce into a mixing bowl, add hot spaghetti and a splash of best quality extra virgin olive oil. Finish with freshly grated parmesan.
Our friends at Wine Selectors suggest pairing this dish with a Sangiovese.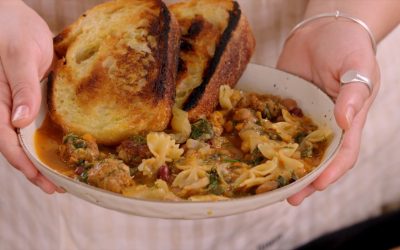 Ingredients: 4 Spicy Italian Sausages Packet of Farfalle Pasta 1 Leek 1 Carrot 1 Onion 2 Garlic 2 cups Shredded Cabbage 1 Chopped Silver Beet 1 400gm Tinned Beans 1 tsp Cumin powder 1 tsp Coriander  powder 1tsp Paprika powder 2 tbsp Tomato Paste Stock of your choice...