Truffle Risotto
Laura Sharrad
10 dried porcini mushrooms
1 brown onion, finely diced
3 garlic cloves, chopped
1 tbsp truffle paste
440g arborio rice
1 cup white wine
1.5 L stock
250g mixed mushrooms, finely chopped
100g butter
100g parmigiano cheese
Sea salt flakes
Black pepper
Extra virgin olive oil
Fresh truffles to serve / oil if truffles aren't available
Boil the kettle and pour the boiling water into a heatproof bowl with the dried porcini mushrooms to soak for about 10 minutes until they are soft. Drain but reserve the liquid as it has a beautiful porcini mushroom flavour. Roughly chop the mushrooms.
Heat 2 tablespoons of the olive oil in a frying pan, add the onion, chopped garlic and rehydrated porcini mushrooms, and cook slowly over a low heat for approximately 10 minutes until both the onions and garlic are tender.
Turn up the heat to medium, add the rice and stir until the rice begins to toast and becomes translucent, approximately 1–2 minutes. Add the wine to the rice and keep stirring until the rice absorbs all the wine.
Turn down the heat to a simmer once all the wine has been absorbed, and then add the first ladle of hot stock to the rice. Continue stirring and once the rice has absorbed all the stock, add another ladleful of stock. Continue this process for approximately 20 minutes, or until the rice is cooked. It should be soft but still have a slight bite to it.
Meanwhile, at the same time as the rice is cooking, heat a separate frying pan with 2 tablespoons of olive oil, and sauté the sliced garlic over a medium heat for a minute. Add the mixed mushrooms and sauté until almost cooked, about 5 minutes. Add a little of the porcini liquid for extra flavour. After about 15 minutes of cooking the risotto, add the mushrooms so they cook with the rice for the last 5 minutes of cooking time.
Season to taste with sea salt and freshly ground black pepper, then add the butter and Parmigiano and continue to stir until all the butter has dissolved.
Take off the heat, cover with a lid and leave for a few minutes. This makes the rice creamy, the way it should be served.
Our friends at Wine Selectors suggest pairing this dish with a Chardonnay.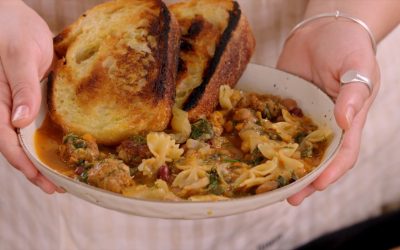 Ingredients: 4 Spicy Italian Sausages Packet of Farfalle Pasta 1 Leek 1 Carrot 1 Onion 2 Garlic 2 cups Shredded Cabbage 1 Chopped Silver Beet 1 400gm Tinned Beans 1 tsp Cumin powder 1 tsp Coriander  powder 1tsp Paprika powder 2 tbsp Tomato Paste Stock of your choice...