Tuna Mango & Pineapple Ceviche
Khanh Ong
200g Sashimi grade tuna
1 tbsp caster sugar
10ml hot water
35ml fish sauce
Zest and juice of 2 limes
50g pineapple fresh, diced
1⁄4 of a green mango diced
1 tbsp finely chopped coriander stalks
1 long red chili
1 lemongrass
2 tbsp dessicated coconut
Roughly chop lemongrass, half the chili , then add to a mortar and pestle with the sugar and lime zest.
Bruise the chilli and lemongrass with the mortar and pestle, then add coriander stalks and bash, then loosen with lime juice and fish sauce.
Taste for seasoning, add more lime juice or sugar if needed
Crush half of the pineapple in the mortar and pestle
Slice tuna into cubes and add to a bowl with ¾ of the dressing
Add the rest of the pineapple, mango and dessicated coconut
Garnish with finely chopped chilli and coriander leaves.
Serve with lavosh or crackers.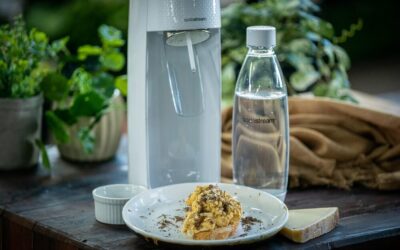 Ingredients: Serves 4 12 eggs, best quality you can afford 150ml sparkling water 2 tablespoons freshly grated parmesan Sea salt and freshly cracked pepper 20g butter 4 thick slices of sourdough, toasted/charred Method: Mix together the eggs, sparkling water, parmesan...