Tuna Tartare
Laura Sharrad
150g Raw Bluefin Tuna, sashimi grade
½ shallot, finely diced
½ lemon juice
1 tbsp diced gherkin
1 tbsp diced chilli, de-seeded
1 tsp fresh dill, finely chopped
1 tsp chives, finely chopped
2 tbsp soy sauce
1 tbsp whole egg mayonnaise
1 egg yolk
50g potato chips, sea salt flavoured
Season your shallot with the lemon juice and a pinch of salt and sit aside for 5 minutes.
Slice your tuna into 1cm cubes. Ensure that your gherkin, chilli, dill and chives are finely diced and mix together in a bowl with the tuna.
Add in your soy sauce and mayonnaise and stir.
Plate up your tuna tartare by serving in a bowl alongside the potato chips. Top the mixture with egg yolk and seasoning with a pinch of salt.
Our friends at Wine Selectors suggest pairing this dish with a Savignon Blanc Semillon.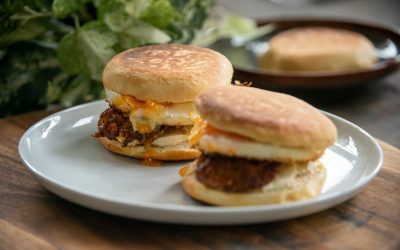 Ingredients: 300ml milk, plus extra 7g sachet of dried yeast 25g white caster sugar 50g shortening or lard 425g plain flour, plus extra 20g polenta, optional Unsalted butter Method: Gently warm the milk in a pan until lukewarm or body temperature, 37ºC. Add the yeast...