Vegetarian Eggplant Katsu Curry on Rice
Elena Duggan
500g / 1lge Eggplant, cut into half in length, then 1cm semi circle slices
100g Rice flour, fine
Pinch salt
2lge Eggs, beaten
250g Obento Panko Bread Crumbs
250g Peanut Oil
Curry:
92g S&B Golden Curry Sauce Mix
Up to 500g Boiling water, more if a soupy consistency is desired
250g Onion, 1cm dice
250g Potato, 1cm dice
250g Carrot, 1cm dice
To Serve:
500g Cooked Japanese rice
Obento Tonkatsu sauce
Optional to Serve:
Pickled red daikon
Mix salad greens
Fresh sliced tomato
Toasted sesame seeds
Spring onions, finely sliced
Boiled eggs
To prepare the eggplant, flour each piece all sides, shake off any excess, then coat in egg wash, followed by panko breadcrumbs.  You can do this ahead of time and refrigerate if desired.
To fry the eggplant, heat oil in a medium non-stick fry pan to a medium high heat.  Fry in batches, turning once or twice until golden brown and crunchy. Drain well over paper towel or a drying rack on a tray.
To prepare the curry, preheat a medium non-stick fry pan to a medium high-heat. Stir-fry the curry paste until fragrant, deglaze, break up and thoroughly stir through water until a sauce is forming.  Add all vegetables and reduce heat to a low simmer and cook until vegetables have softened through.
To serve, place a bed of rice followed by curry then topped with eggplant katsu, sauce and optional toppings.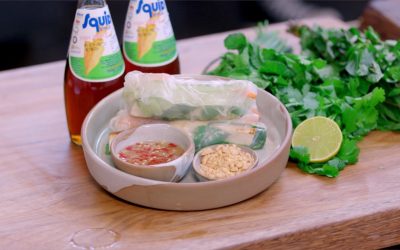 This recipe is brought to you by our friends at Asian InspirationsIngredients:Serves: 8 Prep Time: 10 mins Cook Time: 15 mins Main Ingredients: 1 packet rice paper 150g rice vermicelli noodles 1 bunch coriander 1 bunch Thai basil 1 bunch mint 1 bunch garlic chives 1⁄4...