Vietnamese Turmeric Fish
Elena Duggan
1kg Firm white flesh fish, skinless fillets, cut into 4-8 pieces (all suitable: gurnard, morwong, ling, halibut, cod, monkfish, snapper)
100g Grapeseed or coconut oil, additional for cooking
25g Stevia monkfruit combination, granulated (if unavailable, substitute for 50g honey)
25g-50g Fish sauce
100g Asian shallot, roughly diced
50g Fresh turmeric, roughly diced (if fresh unavailable, substitute for 2tbsp ground turmeric)
75g Fresh ginger, roughly diced
50g Fresh garlic (1head), roughly diced
2lge bunches Dill, one roughly chopped, one for presentation
1 bunch Coriander, stalks and roots for marinade, leaves or presentation
6med Spring/ green onions, 2cm angled slices
50-100g Baby spinach leaves
Optional to Serve:
50g Toasted peanuts, roughly chopped
1 bunch Mint, leaves only
1 bunch Vietnamese mint, leaves only
250g Rice vermicelli, hydrated and well drained
250g Cucumber, peeled, deseeded, sliced on an angle
Lime quarters
Nuoc Cham Dressing:
2lge limes, juice and zest
25g Stevia monkfruit combination, granulated
25g-50g Fish sauce
1long Red chili, deseeded and finely diced
1clove Garlic, finely diced or crushed
Up to 50g water to loosen
To prepare the marinade, in a large mortar and pestle pulverise, stevia, shallot, turmeric, ginger, garlic, chopped dill, and coriander stalks. Once paste is formed and no chunks remain, add fish sauce and oil to loosen. Completely cover the fish in marinade on both sides and place in an airtight container with a lid. Can marinate for up to 12hours, turning once or twice.
Preheat heavy based fry pan to a medium-high heat; alternatively this can be cooked outdoor on a barbecue flat plate which will also require preheating.
On a presentation platter, scatter spinach leaves and half the remaining dill leaves. If using cucumber, vermicelli, and/or mints, scatter them at this time too.
Cook fish, in fry pan for up to 3minutes each side, longer if very thick portions – or until flesh has changed from translucent to opaque. The marinade may prevent easy visibility, so you need to carefully pry open flesh with a sharp knife and fork to inspect how cooked it is. Once all fish is cooked, place portions on top of greens, gently ease fish flesh apart in two to three pieces to expose the white flesh bordered with golden sear. Scatter any remaining herbs and garnish before serving immediately.
Gluten free
Grain free (leave off noodles, increase greens)
Sugar free/ fructose free
Keto friendly
Bulletproof friendly
LCHF friendly
Pescatarian friendly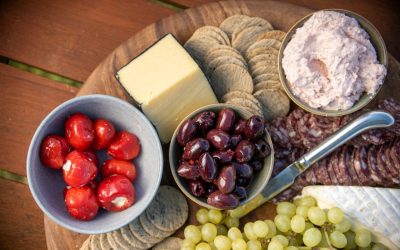 Ingredients: Hard Cheese Soft Cheese Blue Cheese 1 baguette  A bunch of Green Grapes Honeycomb Salami (sliced) Smoked Salmon Dip Artisan Crackers Beetroot dip Poppy Seed Skordalia Dip Dukkah Stuffed Bell Peppers Marinated Olives (pitted) Method: There are no rules or...