Vodka Cured Ocean Trout
Ben O'Donoghue
Serves 4
500gm of thick ocean trout fillet (all the same thickness)
1 cup of soft brown sugar
1 cup of salt flakes (Murray river or similar)
50mls of vodka
1 vanilla pod
100gm golden shallots finely diced
½ lemon (segments removed and cut into dices)
2 tablespoons extra virgin olive oil
1 tablespoon of dill diced
4 small butter lettuce cups
4 teaspoons of creme fraiche
Freshly cracked black pepper
Split the vanilla pod and scrap out the seeds then mix the seeds into the vodka. Place the trout and the vanilla vodka into a small dish and allow to marinate for 1 hour.
Chop up the leftover vanilla pod and mix with the salt and sugar.
Cover the top and bottom of the trout with the vanilla sugar and salt mix and wrap with cling film and place in the fridge for 24 hours.
Combine the finely diced shallots with the small-diced lemon pieces, olive oil and the chopped dill (keep four nice sprigs for garnish).
Remove the trout from the salt and sugar and wash under cold water to remove any excess. Pat dry. Remove the skin and then dice the trout into even 1 cm cubes
Place each lettuce cup into a small bowl or plate, divide the cubed trout between each cup, dress evenly with the shallot and lemon dressing.
Top each with a teaspoon of creme fraiche and a sprig of dill and a twist of freshly cracked pepper.
Our friends at Wine Selectors suggest pairing this dish with a Chartley Estate Pinot Noir 2017, or Josef Chromy Tasmanian Cuvée NV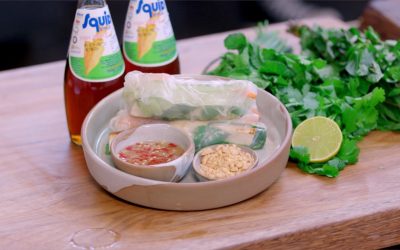 This recipe is brought to you by our friends at Asian InspirationsIngredients:Serves: 8 Prep Time: 10 mins Cook Time: 15 mins Main Ingredients: 1 packet rice paper 150g rice vermicelli noodles 1 bunch coriander 1 bunch Thai basil 1 bunch mint 1 bunch garlic chives 1⁄4...