Warm Green Salad
Elena Duggan
150g Green beans (1 bunch), ends trimmed
150g Asparagus (1 bunch),
50g Pine Nuts
50g Currents
3 cloves garlic, sliced
2 med French shallots, finely diced
50g Extra Virgin Olive oil
Salt
Remove the woody ends of the asparagus.
Gently fry pine nuts, currents, garlic and shallots in extra virgin olive oil. Season with salt and put aside.
Blanch the beans and asparagus for 40 – 60 seconds in a pot of boiling water.
To serve, place the beans and asparagus onto a serving platter and top with the pint nut mixture. Serve warm!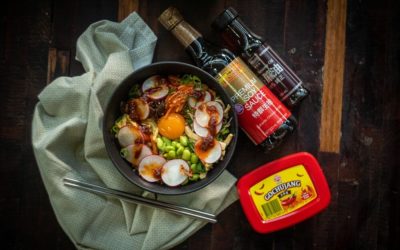 Ingredients: 4 cups Cooked short medium rice (piping hot) 1 Carrot (julienned) 1 Zucchini (julienned) 8 Dried shiitake mushrooms (rehydrated in warm water for at least 1 hr, sliced) 1 pack Enoki mushrooms, separated 4 Radishes, thinly sliced 1 cup Shelled edamame...