Whisky Fennel Pork
Khanh Ong
2 pork chops skin on
2 baby fennel or 1 large fennel
2 sprigs of rosemary
2 cloves of garlic
6 canned peaches halves
1⁄4 cup of whisky/scotch/bourbon
a pinch of salt
To Serve (Garnish):
remove the skin from pork chop but leave a large layer of fat.
score the inside of the skin, sprinkle salt over the chops then place fat side down on a tray in a 200C oven for 20-25 minutes until crispy.
score the fat on the pork chops then place on a large pan fat side down then turn on the heat so the fat renders slowly for 4-6 minutes until brown.
halve the baby fennel and place cut side down in the the pan.
flip the pork onto the side and cook for 4-5 minutes.
hadd rosemary leaves and sliced garlic into the pan and flip the pork.
add peaches in.
add whisky and flambe for 2 minutes.
set aside to serve.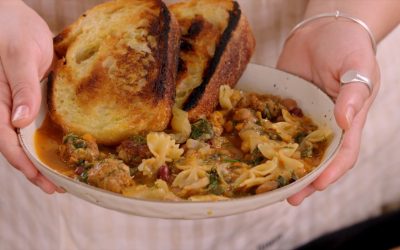 Ingredients: 4 Spicy Italian Sausages Packet of Farfalle Pasta 1 Leek 1 Carrot 1 Onion 2 Garlic 2 cups Shredded Cabbage 1 Chopped Silver Beet 1 400gm Tinned Beans 1 tsp Cumin powder 1 tsp Coriander  powder 1tsp Paprika powder 2 tbsp Tomato Paste Stock of your choice...