Whole Roasted Cauliflower with Whipped Tahini Dressing
Ben O'Donoghue
Harissa
250g Long fresh red chillies
3 heaped tsp. coarsely ground caraway seeds
3 heaped tsp. coarsely ground cumin seeds
1 level tsp. ground black cumin seeds (optional)
4 garlic cloves
100g piquillo peppers, or 1 large red bell pepper, roasted, peeled and seeded
1 tbsp. tomato purée
1 tbsp. red wine vinegar
2 level tbsp. sweet smoked Spanish paprika
6 tbsp. extra virgin olive oil
Sea salt and black pepper
Tahini Dressing
50gm peeled garlic
120ml lemon juice
100ml olive oil
120gm tahini
250ml water
5gm salt
Whole Roasted Cauliflower
1 Whole cauliflower
2-3 tablespoons of Harissa
2-3 tablespoons of olive oil
Salt and pepper
1 pomegranate seeded
1 cup picked mint leaves
¼ cup chopped raw almonds
Harissa
It is advisable to wear rubber gloves when preparing the chillies. Slice the chillies in half lengthways. Lay each chilli on a chopping board cut-side up, gently scrape away the seeds with a teaspoon and discard them. Roughly chop the chillies and transfer to a food processor with a sharp blade.
Blend the chillies with a pinch of salt, half of each of the spices and the garlic cloves until smooth. Then add the peppers and blend. It is important that the paste is as smooth as possible. Transfer to a mixing bowl.
Now add the remaining ingredients – the rest of the spices, the peppers, tomato purée, and vinegar, paprika and olive oil. Taste and season with more salt to balance out the vinegar. Harissa keeps well in the fridge, but be sure to cover it with a little olive oil to seal it from the air.
Tahini Dressing
Combine the lemon juice, garlic and salt in a blender and puree until smooth.
Add the tahini and blend
Then blend in the water and olive oil
Whole Roasted Cauliflower
Remove all the large leaves off the cauliflower and wash well with cold water
Rub the cauliflower well with the harissa and drizzle with the olive oil and season with salt and pepper. Place onto a roasting tray and cover with foil and place into a preheated oven at 170 degrees and cook for 40 minutes
After 45 minute remove the foil and roast for a further 10 minutes to color.
To serve, dress with the tahini dressing, scatter with pomegranate seeds and mint leaves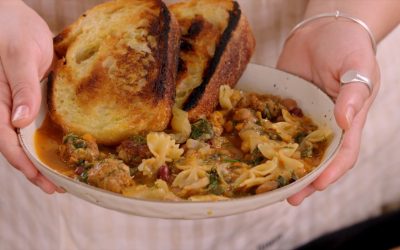 Ingredients: 4 Spicy Italian Sausages Packet of Farfalle Pasta 1 Leek 1 Carrot 1 Onion 2 Garlic 2 cups Shredded Cabbage 1 Chopped Silver Beet 1 400gm Tinned Beans 1 tsp Cumin powder 1 tsp Coriander  powder 1tsp Paprika powder 2 tbsp Tomato Paste Stock of your choice...