Yuzu Mayo Chicken Yakisoba
Laura Sharrad
Recipe brought to you with the help of our friends at Asian Inspirations
200g Hakubaku Organic Yakisoba Noodles
150g chicken breasts (thinly sliced)
80g shimeji mushrooms (roughly cut)
8 asparagus (cut into shorter sticks)
1 clove garlic (sliced)
2g red chilli (cut into rings)
Kewpie Yuzu Mayonnaise (to taste)
Sauce:
2 tsp Murasaki Soy Sauce
2 tsp Obento Mirin Seasoning
4 tbsp olive oil
4 pinches cooking salt
Pepper (to taste)
To Prep:
Mix all Sauce ingredients and set aside.
To Cook:
Cook the noodles approximately 3⁄4 of the way and cool in ice bath to avoid further cooking.

Drain and leave aside.

In a pan, gently cook garlic and chilli in oil until fragrant and cooked through, then add chicken.

Cook the chicken for 3-4 mins. When it is almost cooked, add mushrooms, then asparagus.

Add noodles with small amount of hot water (to loosen the noodles), followed by Sauce

mixture.

Once the mixture is all combined, serve with desired amount of yuzu mayonnaise over the top.
Note: Hakubaku Organic Yakisoba is available in leading Asian grocery stores. You may also use Hakubaku Organic Udon for the dish that can be found in major supermarkets.
Our friends at Wine Selectors suggest pairing this dish with a Rose.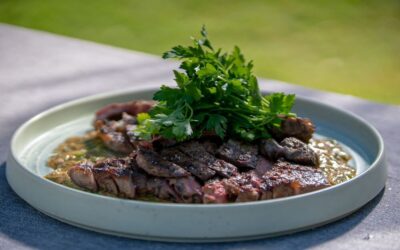 Ingredients: Serves: 2-4 2 x 250g T-bone or Rump steak Sea salt 2 Tbsp Olive oil 2 Tbsp Butter 1 brown onion, diced 2-3 cloves garlic, finely chopped 1 tsp dried chilli flakes 2 tsp dried mixed herbs 40 'twists' cracked black pepper 2 chicken stock cubes, crumbled 2-3...