Baby Snapper
Elena Duggan
1.2kg Snapper (tilapia, barramundi also work well when local and in season), scaled, gutted, and cleaned
100g Potato starch/ arrowroot/ rice flour
25g Coriander, leaves only
25g Mint, leaves only
25g Vietnamese mint, leaves only
25g Holy basil, leaves only
Sauce
1jar (150g?) Tamarind paste
150g Sweet chili sauce
up to 50g Tamari
up to 50g Fish sauce
up to 50g Stevia
up to 100g Water, to loosen
To Serve:
2 serves cooked rice
25g Crispy fried shallots
5 Spring onions, finely sliced
2 long Red chilies, finely sliced
Lime wedges
Heat oil in a large wok until approx. 165° Celsius or a medium high heat.
While oil is coming to heat, place tamarind and sweet chili sauce in a small saucepan, place half the tamari, fish sauce and stevia in and stir to combine – adjust seasoning to taste with remaining ingredients. Loosen with water if desired. Sauce should predominantly be sour, with a bit of a salty and spicy kick. Leave on a very gentle simmer so you can serve sauce warm to hot in temperature.
To prepare the fish, score the flesh vertically and horizontally to create cubes of flesh. Lightly flour with starch of choice and shake of any excess.
When oil has come to heat, gently slide fish in so it takes the shape of the bottom of the wok. If fish is completely submerged, no agitation is required. If fish nose or tail is sticking out of oil, gently and carefully ladle oil over for up to five minutes, then let cook for a further 2-3minutes. You can gently lift fish out of oil using two implements to inspect flesh is cooked through to the bones exposed via the scoring. Drain above oil as best as possible or place on a cooling/ draining rack briefly before serving.
During the final 2-3minutes of cooking, prepare the platter but placing rice down the centre to create some height for the fish to sit on top of. Using half of all salad and topping ingredients, scatter all over rice.
Place fish on top of the rice, if the cavity is easily opened, you can place the open fish belly atop the rice so it's standing upright. Scatter remaining herbs and toppings and spoon over sauce generously. Serve immediately.
Gluten free
Grain free, optional
Low Fructose / Minimal sugar
Vegetarian
Pescatarian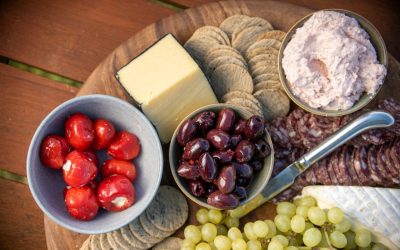 Ingredients: Hard Cheese Soft Cheese Blue Cheese 1 baguette  A bunch of Green Grapes Honeycomb Salami (sliced) Smoked Salmon Dip Artisan Crackers Beetroot dip Poppy Seed Skordalia Dip Dukkah Stuffed Bell Peppers Marinated Olives (pitted) Method: There are no rules or...