Baked Pizza Frittata
Simone Austin
3 scoops Ensure Vanilla Powder
2 teaspoons extra virgin olive oil
1 brown onion, finely chopped
1 small red capsicum, diced
2 slices (40g) smoked ham, chopped
2/3 cup tomato pasta sauce
6 black olives sliced
½ teaspoon chilli flakes (if desired)
8 eggs
1/2 cup milk
¾ cup tasty grated cheese
Fresh basil leaves, to serve
Toasted sliced baguette, to serve
Heat oil in a 26cm, ovenproof frying pan over medium heat. Add onion. Cook, stirring occasionally, for 2 minutes or until onion has softened. Add capsicum and ham. Cook, stirring, until capsicum is tender. Stir in olives and 2 tablespoons pasta sauce.
Mix the Ensure Vanilla powder with the milk. Whisk eggs and Ensure milk mixture together in a large bowl. Pour over mixture in pan and tip to distribute evenly.
Reduce heat to low. Cook for 8 to 10 minutes or until almost set (mixture will wobble slightly in the centre). Top with cheese, dollop with remaining pasta sauce and sprinkle with chilli flakes if desired.
Preheat grill on high. Grill frittata for 3 minutes or until top is golden and mixture has set. Stand for 2 minutes. Sprinkle with basil leaves. Serve with toasted baguette slices and green salad.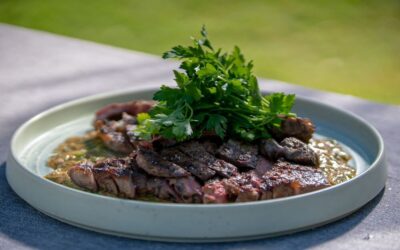 Ingredients: Serves: 2-4 2 x 250g T-bone or Rump steak Sea salt 2 Tbsp Olive oil 2 Tbsp Butter 1 brown onion, diced 2-3 cloves garlic, finely chopped 1 tsp dried chilli flakes 2 tsp dried mixed herbs 40 'twists' cracked black pepper 2 chicken stock cubes, crumbled 2-3...