Pesto (Dressing)
1 head of garlic, previously confit
1 med lemon, previously confit
1 large bunch of basil, leaves only
50g Parmesan cheese (roughly diced, or grated)
50g Pine nuts (lightly toasted, and cooled)
Ground Black pepper, to taste
Up to 250g Australian Extra Virgin Olive Oil
Blitz pesto ingredients until paste is formed; continue to blitz until desired consistency
Add additional lemon juice to taste and to loosen if necessary.
Adjust seasoning to taste as desired.
Notes
You can utilise reserved and cooled confit Olive oil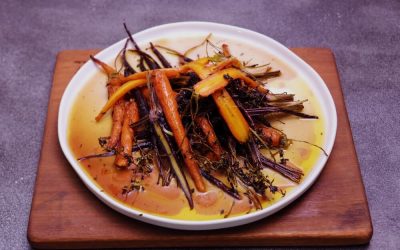 Join Elena Duggan as she creates her Honey Herbed Carrots recipe. Tune in to The Market kitchen each weekday on Channel 10.