6 Rashers Hickory Smoked Bacon, cooked till crispy, cooled
1 punnet Perino / Sweet bite tomatoes, quartered
1 Avocado
½ Lemon, juice only
1 Green oak lettuce
50g Beetroot Relish (try our homemade recipe here)
25g Black sesame seeds
1 Lebanese cucumber, peeled, deseeded, sliced on an angle
2 Soft boiled eggs
Dressing
½ bunch Fresh chives
½ bunch Basil leaves
50g Jalna Greek Yoghurt
50g Olive Oil
½ lemon, zest and juice
White pepper, to taste
Salt, to taste
Additional Items
Preheat oven to 180 degrees celsius.
Roll the bacon up onto itself lengthways. Place two toothpicks in a cross fashion into the bacon to secure. Place into a loaf tray standing up.
Cook bacon in oven for approximately 10 minutes until crispy.
Ensure avocado is lightly dressed in lemon juice to avoid oxidation. Cut in half and scoop out the flesh, keeping it whole. Once peeled, gently press the flesh of the avocado into the sesame seeds.
Divide salad ingredients in two and place ingredients into serving bowls, so each is visible. Make sure you remove the toothpicks from the bacon roses!
To prepare dressing, blitz ingredients in a food processor until smooth.
Drizzle dressing over salad bowls as generously as desired.
Grain free
Gluten free
LFHC/ Keto friendly
Low fructose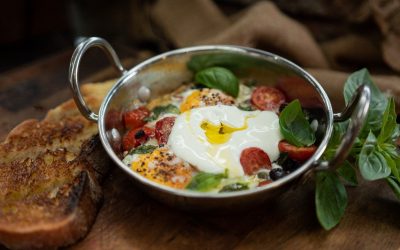 Ingredients: 9 cherry tomatoes, halved 1 small garlic clove, thinly sliced 2 tsp good-quality olive oil 1 tsp balsamic vinegar 5 basil leaves, torn, plus a few extra to serve if you like 5 pitted olives, sliced 2 large free-range egg 1 tsp small capers, rinsed salt...