Chicken and Lentil Salad
Elena Duggan
Two chicken breasts from a BBQ Chicken, shredded
2 cans brown lentils, drained and rinsed
1 Spanish onion, finely diced
150g Feta, crumbled
50g Pistachios, diced
1-2 bunches Parsley, leaves only, chopped, reserve some for presentation
1 bunch Mint, leaves only, chopped, reserve some for presentation
100g Extra Virgin Olive Oil
50g (4 Leaf) Balsamic Vinegar
50g Cranberries diced
50g Dates, pitted and diced
Pepper, to taste
Salt, to taste
Place dates, cranberries, vinegar and oil in a large bowl and allow dried fruit to soften and re-hydrate for up to 30 minutes. Adjust seasoning to taste.
Place all other ingredients in bowl and toss through.
Serve with remaining herbs.
Grain Free
Gluten Free
Refined Sugar Free
Sugar Free – Low Fructose
Ketogenic Friendly
BulletProof Friendly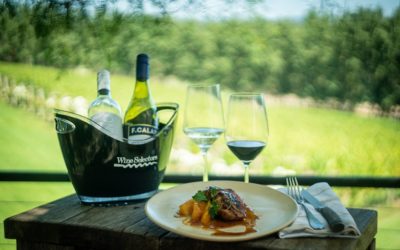 Ingredients: 4 duck breast 1 tablspoon brown sugar ½ tablespoon salt ¼ bunch thyme 1 tsp five spice butter garlic Sauce 1/3 cup sugar 1/3 cup fresh orange juice (from 1 to 2 oranges) segments of one orange 2 tablespoons white-wine vinegar 1/8 teaspoon salt 2 to 4...