Dry Tuna Laksa Pasta
Karen Chan
Serves: 2
185g Safcol Tuna in Springwater, drained
2 anchovy filets in olive oil
100g angel hair pasta
¼ cup coconut milk
Wedge of lime
2tbs oil
4 kaffir lime leaves, finely sliced
Salt
Paste
1 shallot
2 cloves garlic
2 slices ginger
1 stalk lemongrass, whites only, finely sliced or 1 tbs minced lemongrass
¼ tsp turmeric powder
1 large red chili or 1tsp mild chili powder
On 2 cooking burners, use 1 to heat a frying pan on medium heat, and the other to bring a pot of water to boil (for pasta).
In a mortar and pestle, pound all ingredients for spice mix to form a paste.
Into a hot pan, add anchovy filet and break it up before adding oil and then spice mix. Stir-fry until fragrant, about 3-5 minutes. Add tuna and half the kaffir lime leaves.
While the spice paste is frying, boil pasta until al-dente and then drain.
Add the pasta into the pan with the tuna and paste, and pour in coconut milk. Stir to coat pasta with the laksa sauce.
Season with salt and then pour onto a serving plate. Garnish with remaining kaffir lime leaves and serve with a wedge of lime.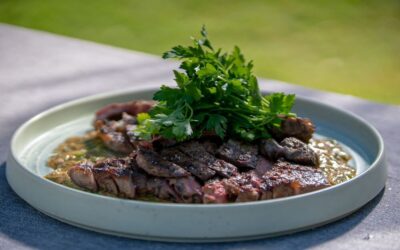 Ingredients: Serves: 2-4 2 x 250g T-bone or Rump steak Sea salt 2 Tbsp Olive oil 2 Tbsp Butter 1 brown onion, diced 2-3 cloves garlic, finely chopped 1 tsp dried chilli flakes 2 tsp dried mixed herbs 40 'twists' cracked black pepper 2 chicken stock cubes, crumbled 2-3...