Dutch Pea and Ham Soup
Elena Duggan
500g Bacon, skin removed, diced
500g Green split peas (1 packet)
100g Carrot
250g White onions, finely diced
250g Celery with leaves, finely diced
250g Potatoes, finely diced
2med Leeks, finely sliced
2 cloves Garlic, diced
½tsp Dried thyme
¼tsp Ground nutmeg
¼tsp Ground cloves
2L Water or chicken stock, reduced salt, additional may be needed
Finely ground black pepper to serve
Additional speck to serve
Rye bread to serve
Butter to serve
In a slow cooker, place bacon, split peas, and stock and cook on low for 3-4 hours or until split peas are tender.
Add vegetables, garlic, herbs and spices and cook for an additional 2-3 hours. Add additional water if necessary to cover all ingredients.
Season with pepper and/or additional spices to taste before cooking for an additional hour. Up to 8 hours in total is likely to gain desired consistency.
If you prefer your soup with chunky chewable pieces, serve as is. Alternatively and more commonly, using a stick blender, blitz until desired smooth consistency is achieved.
Serve with fried crispy cubes of speck, alongside rye bread with lashings of butter.
Gluten free
Grain free
Moderate Fructose / zero refined sugar
Keto Friendly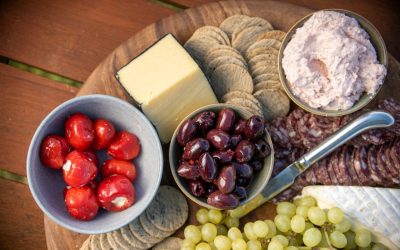 Ingredients: Hard Cheese Soft Cheese Blue Cheese 1 baguette  A bunch of Green Grapes Honeycomb Salami (sliced) Smoked Salmon Dip Artisan Crackers Beetroot dip Poppy Seed Skordalia Dip Dukkah Stuffed Bell Peppers Marinated Olives (pitted) Method: There are no rules or...