Haloumi and Figs
Elena Duggan
250g halloumi
100g hazelnuts, lightly toasted and roughly chopped
25g orange blossom water (or orange zest)
100g Honey
1 bunch fresh oregano, leaves only
8 medium figs
Cut the tip off the fig. Slice half the figs in lengthways, quarters and some in discs.
Slice halloumi into 75mm -1cm slices. Drizzle extra virgin olive oil over the top of the halloumi.
Preheat grill to medium-high.
Heat honey and orange blossom water in a small saucepan to a gentle simmer, ensuring thoroughly mixed.
Grill halloumi turning once, ensure high enough heat to gain good grill marks.
Present halloumi and figs on a plate; sprinkle over hazelnuts and oregano leaves before drizzling over honey mixture.
Notes
Elena has fig's all FIGured out, see more here. Honey plus figs in this recipe are both high in natural sugars. Depending on the individual, you may experience blood sugar spikes or other uncomfortable symptoms. Once again, you need to do what is right for you and your body, eat what makes you thrive. The fat and protein in halloumi and nuts in this recipe may counteract this effect slightly. So, please eat with caution if you have diabetes or any other endocrine or insulin concerns.
Waste Tips
There should be limited waste from this dish, but fig tips could be put into compost or chicken feed.
Grain Free
Gluten Free
Refined Sugar Free
Vegetarian
Pescatarian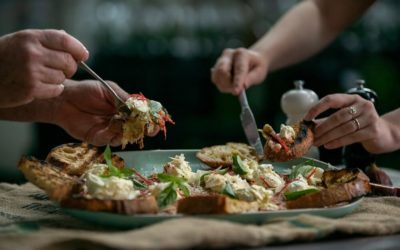 Ingredients: Serves 4 10 ripe figs 2 long red chillies ½ bunch basil Extra virgin olive oil 4 slices of sour dough bread 50g parmesan cheese 2 whole buffalo mozzarella ½ cup of crème criache Baking paper Method: Grill the chillies on your stovetop to blacken and...