Lamb Cutlets with Pea and Lettuce Ragout
Mike Reid
Recipe brought to you with the help of our friends at Velisha Farms
3 bone lamb cutlets (French trimmed)
2 carrots, peeled and diced
35ml Early harvest olive oil
70g smoked lardons (sliced bacon)
100g frozen peas
1 iceberg lettuce, chopped
150ml lamb stock, reduced by half in a saucepan for 10 minutes on a low heat (75ml to be used)
Score the fat of your lamb rack and coat your lamb with salt and cook fat side down on your hot hibachi or BBQ. Cook your lamb for about 12 minutes for medium. Set aside to rest for half the cooking time.
Slice your iceberg lettuce into wedges and season with olive oil and salt. Grill and caramelize on the hibachi or grill for 8-10 minutes.
10 minutes before serving, heat the oil in a sauté or frying pan. Add the lardons and gently fry until they render their fat and are coloured all over. Set the pan aside.
To finish the ragoût, add the peas, blanched carrots and 75ml of the reduced cooking juices to the pan with the lardons. Leave to simmer for 2 minutes, or until the peas are tender. Stir in the lettuce and continue simmering until it wilts. Season with salt and pepper, if necessary.
To plate, slice your lamb cutlets, and place on top of the charred lettuce. Cover in your ragoût and enjoy!
Our friends at Wine Selectors suggest pairing this dish with a Cabernet Merlot.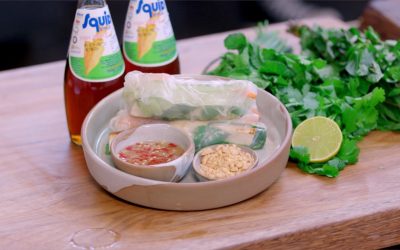 This recipe is brought to you by our friends at Asian InspirationsIngredients:Serves: 8 Prep Time: 10 mins Cook Time: 15 mins Main Ingredients: 1 packet rice paper 150g rice vermicelli noodles 1 bunch coriander 1 bunch Thai basil 1 bunch mint 1 bunch garlic chives 1⁄4...